Summer Internship Programme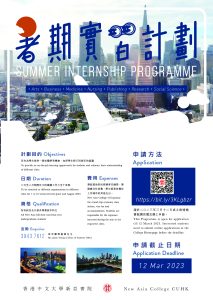 The programme aims to provide an on-the-job learning opportunity for students and enhance their understanding of the social, economic and cultural aspects of different cities.  All New Asia College full-time non-final year undergraduate students are welcome to apply. Successful students will attach to different organizations in different cities between June and August 2023. Interested students please submit online applications at the College homepage. Application deadline is 12 March 2023. Late application will not be accepted.
Available  Internship Programmes
Institute
Location
No. of vacancy
World Scientific Publishing Co. Pte. Ltd.
Singapore
2
William Angliss Institute
Melbourne
2
Private Clinic (Clinic of Dr. William Cheung)
New York City
2
* No limitation to year of study
For detailed job descriptions, please check here.
Important Note: 
Number of internship vacancy(ies) is/are subject to the final decision of individual organization.